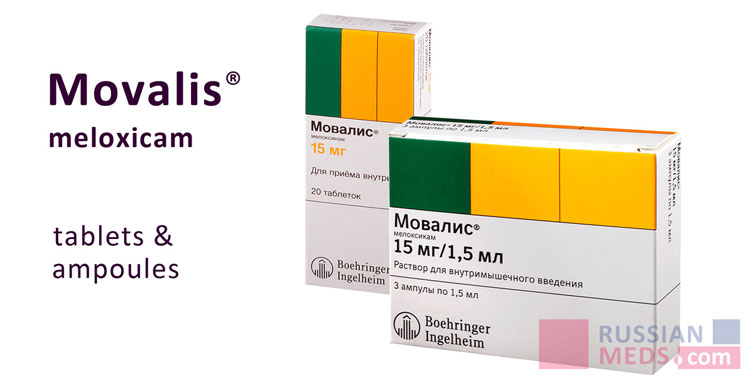 Movalis®
Meloxicam indications :
The removal of pain during sports trauma
Osteoarthritis (arthrosis, degenerative joint diseases)
Rheumatoid arthritis
Ankylosing spondylitis
Degenerative and inflammatory diseases of the joints, accompanied by severe pain syndrome
Movalis® is administered by deep intramuscular injection because meloxicam should not be administered intravenously.
Intramuscular administration of Movalis® is indicated only during the first few days of therapy. In the future, treatment is continued with tablets.
The recommended dose of Meloxicam is 7.5 mg or 15 mg 1 time per day, depending on the intensity of pain and the severity of the inflammatory process.
Movalis®
DOSAGE FORM
tablets, ampoules
---
In Stock
available pack options :
| | | |
| --- | --- | --- |
| | 15mg/1.5ml x 3 ampoules | $27.20 |
| | 15mg/1.5ml x 5 ampoules | $39.50 |
| | 7.5mg x 20 tablets | $29.30 |
| | 15mg x 10 tablets | $24.50 |
| | 15mg x 20 tablets | $35.50 |
prices shown for :